In Healthcare Facilities cleanliness, efficiency and safety are high priorities. Effective laundry systems with safeguards in place are essential to maintaining a sanitary facility to keep residents and staff free from exposures to harmful microbes.
Century offers its experience in laundry equipment, production, textile management and infection control. We understand the steps required to process your laundry faster and more efficiently in order to reach peak cleanliness and maximize cost savings.
Dexter's On-Premise line of washers and dryers have all the options to fit your needs, with equipment capable of processing large amounts of sanitary bedding, clothing and other garments every day. Choose between Dexter's standard 6-cycle wash controls with simple programmable options or state-of-the-art O-Series Wash Controls. Washers are available in 100 G-Force or 200 G-Force extraction to meet your needs.
Dexter has washer capacities ranging from 20 lbs. to 90 lbs. and dryer capacities from 30 lbs. to 170 lbs.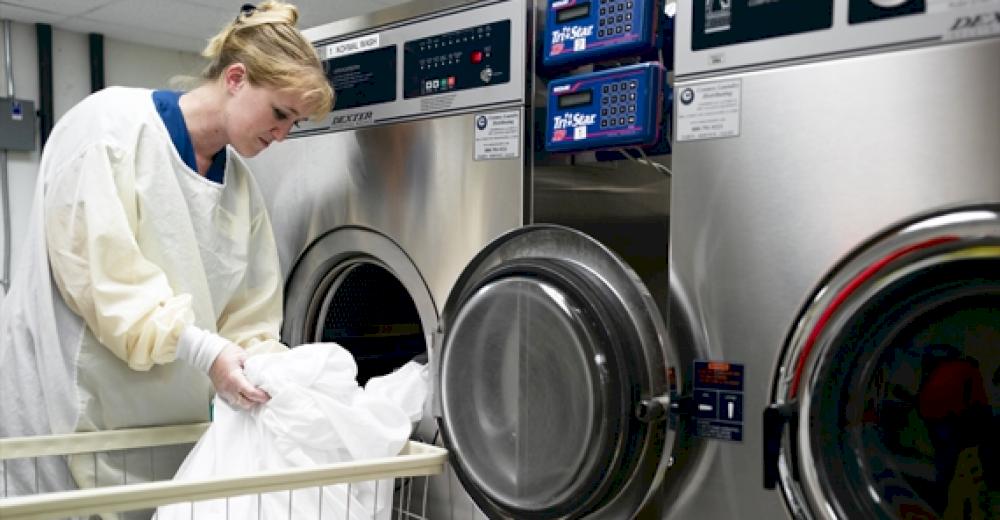 Experienced laundry managers measure everything including utility costs, labor efficiency, and the life of linens. The dryer plays a critical role in the efficiency of a laundry operation as unnecessary time spent in the dryer impacts all the above. Over drying is wasteful in: utilities, labor, damaged linens and reduced throughput.
Dexter's PATENTED wireless sensing technology monitors the moisture content in the load and automatically stops when a desired level of dryness is reached, providing multiple benefits: better linen care and life, as well as, utility and labor savings. The added cost of employing MDS will pay for itself in less than 1-year in normal laundry applications. 
Dexter O-series dryers installed with "Fire Response System" (FRS) provides an additional layer of safety and security from fire risk (usually due to spontaneous combustion). FRS continually monitors the temperature inside the dryer drum, both during the cycle and well after it is complete. If an unexpected rise in temperature occurs,  FRS activates to control a fire. An alarm immediately sounds on the dryer and a remote signal may be sent alerting staff. Water spray and dowse capabilities are available for added levels of safety and security.
As your full-service distributor partner, Century's goal is to help you succeed. With nearly 60 years of On-Premise laundry experience, we offer expertise to help you maintain the most consistent, efficient and cost effective laundry operation possible. Learn more about our Consulting Services.
** Ask us about our Comprehensive Care Program if you would prefer having a fixed total monthly operating cost for your laundry.