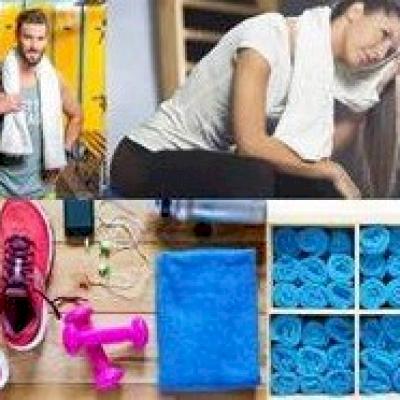 An efficient high performing laundry operation plays a vital role in maintaining a well-run athletic or health club facility. With Century Laundry and Dexter Laundry as your teammates, you can be sure your uniforms will look their absolute best while saving time and reducing utility costs. Dexter's programmable washer and dryer  ensure clean uniforms, protective pads, warm-ups, towels, and personal items. 
You can count on Dexter Equipment to perform under heavy use demands day after day with Dexter's best-in-the-industry 10-year washer and 5-year dryer WARRANTY. Dexter washers and dryers weigh more than all other competitors due to the structural integrity of each machine, resulting in superior quality and durability.
Equipment Sizing to Meet Facility Objectives
Dexter has washer sizes ranging from 20 lbs. to 90 lbs. and dryers from 30 lbs. to 120 lbs. and well as Stack Washer and Dryer Combos to perfectly fit with your operational and productivity objectives while meeting facility  and personnel constraints. Dexter products deliver a consistent, high quality result you and players can count on.
Programmable Washer Flexibility According To Fabric / High Speed Extract Saves Energy
The O-Series line of washers and dryers provide the ultimate in wash flexibility to provide the highest wash results especially when paired with a highly effective chemical program. O-Series washers allow for 100 programmable wash formulas for complete control of water temperatures, chemical mixture, number of washes and rinses, drum action and spin speeds. Programs can be designed for any type of fabric, thereby, reducing the likelihood of human error.
O-Series washers allow for 200 G-force high speed water extraction removing extra water from towels and sweats, resulting in faster turnaround, reduced drying times, increasing utility savings, and extending fabric life. Programmable wash and extract speeds can be tailored for all types of athletic wear.
Dexter dryers are equipped with an advanced microprocessor control offering a variety of control features including: multiple programmable cycles, time-dry and auto-dry, anti-wrinkle and an extended-tumble feature that provides unheated tumble action after the end-of-cycle, reducing wrinkles in unattended loads.
As a high-value option, Dexter O-Series Dryers may be equipped with a unique Moisture Detection System (MDS) to facilitate proper drying of delicate jerseys and uniforms, as well as, other laundry ensuring that garments are not over-dried.
Over drying is wasteful in: utilities, labor, damaged linens and reduced throughput.
Dexter's PATENTED wireless sensing technology monitors the moisture content in the load and automatically stops when a desired level of dryness is reached providing three levels of protection: better linen care and life, as well as, utility and labor savings.
The added cost of employing MDS will pay for itself in less than 1-year in normal laundry applications. 
As an additional layer of safety, O-Series dryers feature a Fire Response System (FRS) which continuously monitors the temperature inside the dryer drum, even after the cycle is complete. If an unexpected increase in temperature is detected, FRS "Level 1" is activated to alert staff for prompt action. Further water, spray and douse, response options are also available.
As your full-service distributor partner, Century's goal is to help you succeed. With nearly 60 years of On-Premise laundry experience, we offer expertise to help you maintain the most consistent, efficient and cost effective laundry operation possible. Learn more about our Consulting Services.
** Ask us about our Comprehensive Care Program if you would prefer having a fixed total monthly operating cost for your laundry.